Fiji is a group of unspoiled, magical and Exotic Island in the South Pacific. A perfect hideaway for honeymooners, families, sports, divers, nature lovers, independent travelers, business and tour groups. It is the ideal place where meetings and conferences and incentive rewards become treasured memories.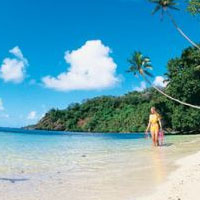 The rich multi ethnic culture and diverse lifestyle has made Fiji the main centre for tourism in the South Pacific Islands. The numbers of visitors to Fiji have gradually increased since its independence though it is still relatively small (averaging 400,000 annually). Regardless, the tourists are made to feel somewhat very special as more attention is given to a smaller number and quality is never compromised.
The magic of Fiji's natural beauty is matched only by the world-famous friendliness of its people, and their diverse, captivating culture. Fiji lends itself to all genres of travel. Honeymooners, divers, backpackers, families, bird-watchers, adventurers, independent travellers and tour groups all flock here to make the most of the stunning landscape and abundant sunshine.
Fiji consists of 322 islands (of which 106 are inhabited) and 522 smaller islets. The two most important islands are Viti Levu and Vanua Levu. The islands are mountainous, with peaks up to 1,300 metres (4,250 ft), and covered with thick tropical forests. Viti Levu hosts the capital city of Suva, and is home to nearly three quarters of the population. Other important towns include Nadi (the location of the international airport), and the second city -Lautoka (the location of a large sugar mill and a seaport).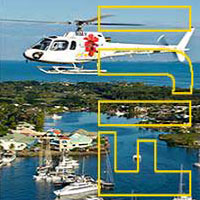 The main towns on Vanua Levu are Labasa and Savusavu. Other islands and island groups include Taveuni and Kadavu (the third and fourth largest islands respectively), the Mamanuca Group (just outside Nadi) and Yasawa Group, which are popular tourist destinations, the Lomaiviti Group, outside of Suva, and the remote Lau Group. Rotuma, some 500 kilometres (310 mi) north of the archipelago, has a special administrative status in Fiji.
The indigenous culture is very much active and living, and is a part of everyday life for the majority of the population. However, it has evolved with the introduction of old cultures like the Indian and Chinese ones, as well as a large influence from Europe, and from various Pacific neighbours of Fiji, mainly the Tongan and Samoan. The culture of Fiji has created a unique communal and national identity.
For more information on "TOURISM FIJI" please log on to Tourism Fiji