Facts about Fiji
Fiji is situated in the South Pacific, approximately 3100 km Northeast of Sydney, 2100 km North of Auckland and 5100 km Southwest of Honolulu.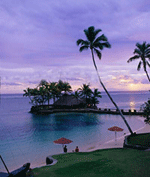 Fiji has a high literacy rate with universal access to primary and lower secondary education. About a quarter of the entire population is of school-going. Fiji therefore has a well educated workforce and the general population has a good standard of education.
English is the official language, while Fijian and Hindi are widely used in education, media and general communication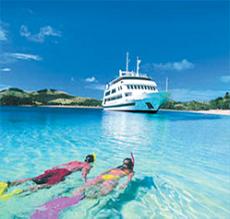 Fiji gained independence from Britain on October 10, 1970, after nearly a century as a British colony. The country is a democratically governed republic with a legal system based on British law. It became a republic in 1987 and is a member of the Commonwealth. The country is also an active member of the international community. On a per-capita basis, Fiji contributes more troops to United Nations peacekeeping missions than any other country.
Fiji's ethnic groups include Fijian, 54 percent (predominantly Melanesian with a Polynesian admixture), Indian, 38 percent, and small communities of European descent, other Pacific Islanders and overseas Chinese. Major religious groups are Christian, 52 percent (Methodists 37 percent, Roman Catholics nine percent), Hindu, 38 percent, and Muslim, eight percent. Ethnic Fijians are mainly Christian and Indians Hindu. The main languages are English (official), Fijian and Hindi.
Fiji, endowed with forest, mineral, and fish resources, is one of the most developed of the Pacific island economies. Tourism, mining, energy, transportation and communications, timber and manuf
The most important emerging sector is information and communications technology, where the government is offering generous incentives for investment and development. Tourism has grown rapidly since the early 1980s and is the leading economic activity in the Fiji islands. Approximately 550,000 people visited Fiji in 2005. Fiji's gross earnings from tourism were about $729 million, an amount double the revenue from its two largest exports of goods (sugar and garments). Gross earnings from tourism continue to be Fiji's major source of foreign exchange. Fiji's tourism revenue yields a services surplus.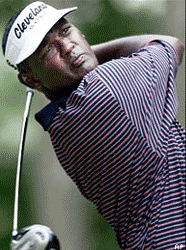 Notable Fijians in the international stage include golfer Vijay Singh, who has won tournaments in many parts of the world and currently plays mainly on the US-based PGA TOUR. Singh, who is of Indian Sikh ancestry, was born in Lautoka, Fiji's second largest city, but grew up in Nadi, on the western side of the main island of Viti Levu. In 2004 and 2005 Singh spent a total of 32 weeks at the top of the Official World Golf Rankings, making him the only person to dethrone Tiger Woods three times as World Number 1 so far this century.
In January 2005 the President of India, H.E. Dr. A.P.J. Abdul Kalam conferred the Pravasi Bhartiya Samman on Vijay Singh. He is a goodwill Ambassador of the Fiji Islands.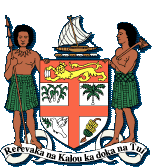 Fiji's national Coat of arms consists of the images of two Fijian warriors on either side of a shield and the motto "Rerevaka na Kalou ka Doka na Tui" below the shield. These words mean "Fear God and honour the Queen." The shield from the coat of arms has the image of a heraldic lion holding a cocoa pod across the top. Sugarcane, a coconut palm and bunch of bananas are represented in three of the shields sections. The fourth contains the reproduction of a dove of peace, the main feature, of the Cakobau Government's flag before session.